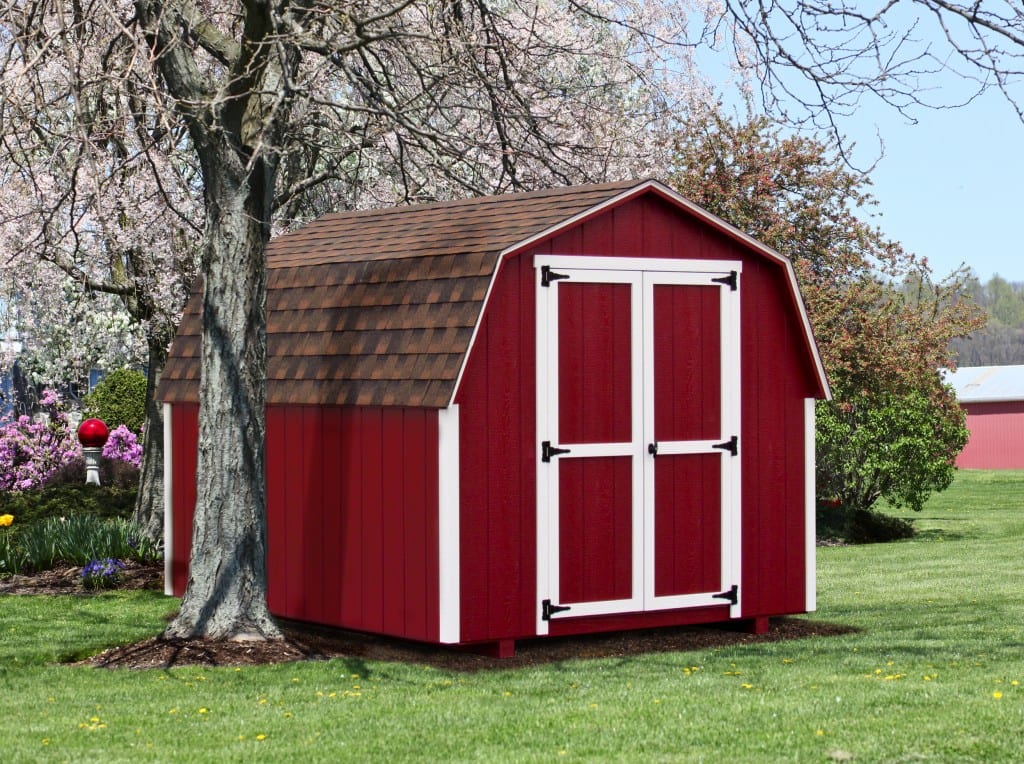 With the traditional gambrel roof line and the double wooden doors, this ageless design, The Mini-barn has a 4' sidewall with an 8' overall height and offers the most economical storage solution and is built with the care and quality construction we devote to each structure we assemble! Don't pay for a mini-storage unit, purchase the Mini-barn and SAVE!!
---
If the mini-barn doesn't offer adequate space for your storage needs, the 6' Wall barn does. The High barn has a 6' wall with an overall height of 10' 6". This style gives you the most storage for your money. If you need overhead storage add lofts, or shelving. Other options such as: Extra windows, doors, vents etc. are also available. Go ahead  get  the storage you need and add value to your property.
---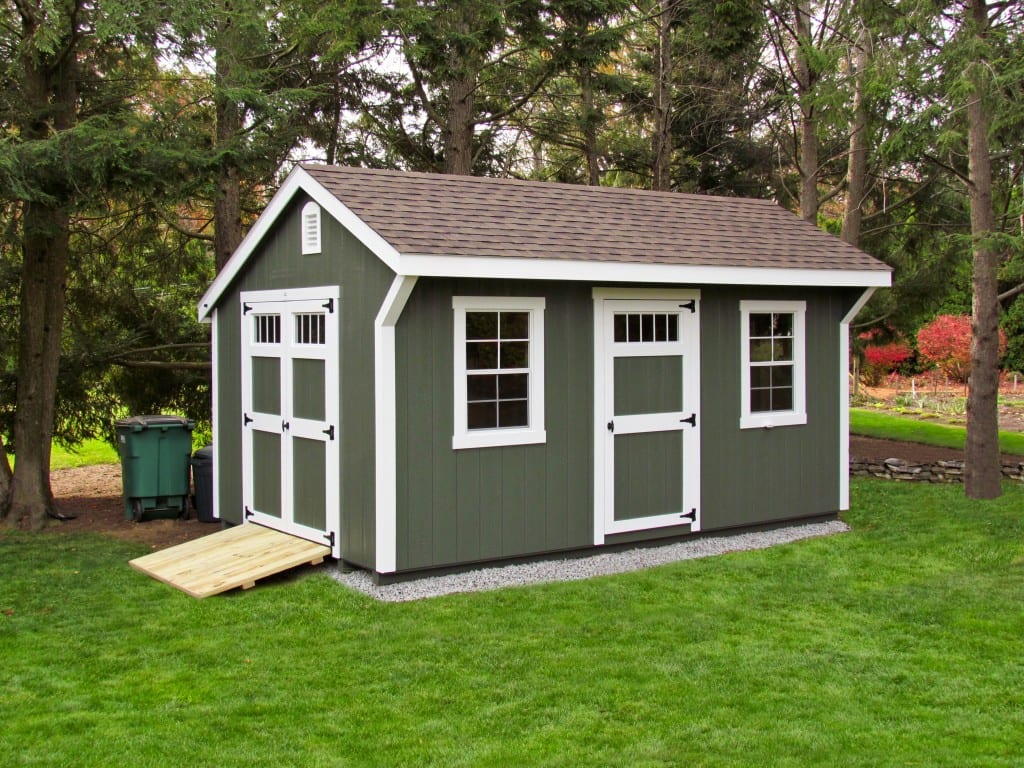 The Quaker style building in one word is adorable.  Add some flower boxes and a cupola and you'll be the envy of the neighborhood.  This storage shed is not just another pretty face, the overhang provides great protection against the weather, keeping you and your storage shed clean and dry. Quaker Sheds are a favorite with their distinctive offset roof line. The style is simple in design yet pleasing to the eye.
---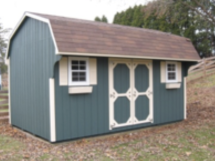 The Dutch Barn is built to the same specifications as the high barn, offering a surprising amount of storage space at ground level and in the optional loft area above. Perfect for every storage need. Store your snow blower, lawn equipment, bicycles, pool supplies and so much more.
---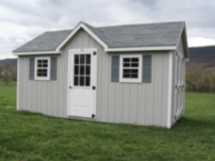 What a Beauty! The Cottage shed is a tribute to the Victorian era, with all the small touches you'd expect. Ample storage room, solid construction and elegant styling options come with every one of our Victorian Sheds. Upgrade your shed with any of our custom options including extra windows, numerous door options, window boxes, multiple roofing options and much more.
---
The Gable Shed has a Rancher A-Frame roof line capping spacious walls. Taller walls provide this building with extra space for the larger projects or additional storage shelves. The gable shed  makes a great place to get out of the house and work on that project undisturbed. When configured with a side door and two windows the Gable Shed blends well with the contours of a typical Rancher home.
---
The Garage is great for getting the car out of the weather. Myers Barn Shop offers garages suited to your vehicle needs! We can place your garage exactly where you need  it. Protect your vehicles, or that antique car that you are fixing up, your four-wheelers, and that small compact tractor etc. A portable garage will keep it nicely. Need something larger? We can build on site custom garages too!
---

Handcrafted Cupolas add an elegant touch to any building and estate. What better way to enhance your property! Our Cupolas are made of the highest quality and we take pride in providing you with the latest styles and newest designs.   Take a few moments to admire our cupolas and find one that fits your building perfectly.