The Carriage style building in one word is adorable. Add some flower boxes and a cupola and you'll be the envy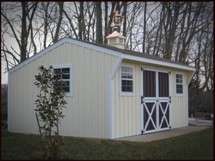 of the neighborhood. This storage shed is not just another pretty face, the overhang provides great protection against the weather, keeping you and your storage shed clean and dry. Carriage Sheds are a favorite with their distinctive offset roof line. The style is simple in design yet pleasing to the eye.
---
Here are a few examples of our Carriage Buildings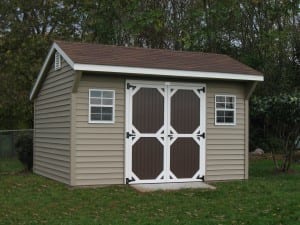 Here is an 8 x 12 Carriage shed we built in Inwood, WV. Catro Construction did the excavating and Myers Barn Shop poured the concrete slab and entrance ramp and installed this building.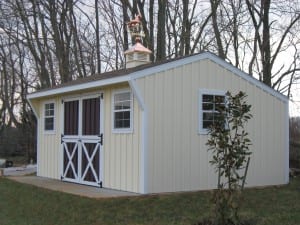 Mrs. Rivers went all out on this 12 x 16 Carriage shed, the double doors are working dutch doors that the top opens separate from the bottom. She then topped it off with an 18" Copper roof cupola with a copper weathervane.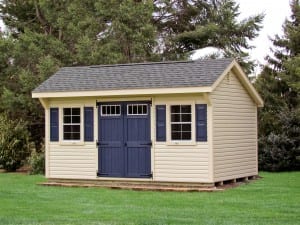 This is a 10 x 16 New England Carriage shed has vinyl siding, soffit, and fascia installed with the same quality and care as your home.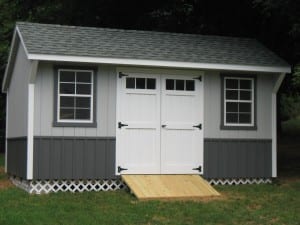 10 x 16 Carriage shed with (2) Vertical slider windows, 5' Double doors with a pressure treated ramp installed.  This quaker has the board-n-batton siding option around the bottom.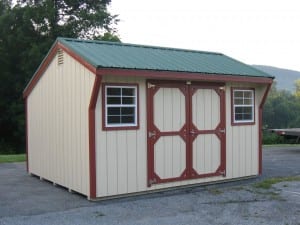 12 x 16 Carriage shed with 50yr. corrugated metal on the roof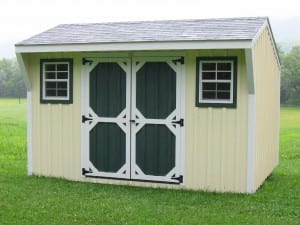 10 x 12 Carriage shed with board-n-batton siding and custom green doors. Myers Barn Shop will paint your storage building to match your color schemes as well.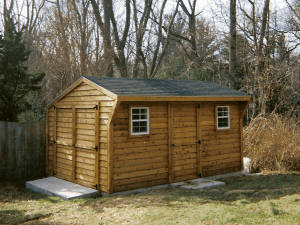 10 x 14 Carriage shed with cedar siding, built to fit in with surrounding buildings and landscape.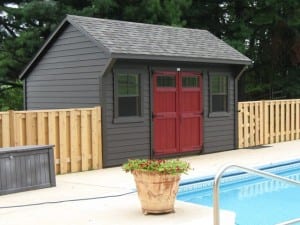 This 8 x 16 Carriage shed was installed along the pool patio with coordinating colors & siding like the house